Name of Property: Underwood Building, Present Site of Underwood Shoes
Address: 147 S. Front Street
Owner: Tom Underwood
Listing Agent: Shelly Myers-Henry, Cressy & Everett "Power of 2," (269) 876-7358
Asking Price: $179,900
Property Description: This building is located on the corner of Front & Commercial streets in downtown Dowagiac. The current property owner is the second generation owner of Underwood Shoes, which occupies the main floor that also includes an office, storage area, large show room and access to the basement for additional storage. The second level has a 2 bedroom, 2 bathroom apartment that is currently occupied. A second unit can be updated for further income potential. At the rear of the two-story building is a one-story commercial space, presently leased to a seasonal business, Smoke BBQ.
Lot Dimensions: 25x100
Available Utilities:
Electric, Natural Gas, Public Sewer, Public Water, Storm Sewer, Telephone
Lot Size: 0.07 Acres
Present Utilities: Electric, Natural Gas, Telephone
Name of Property: Moore Building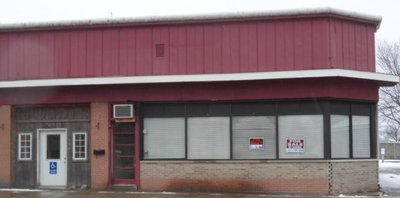 Address: 104 E. Division Street
Owner: Carolyn Moore
Realtor: Ernestine Matthews, Matthews Real Estate, (269) 782-2400
Rental Amount: To be determined
Asking Price: $55,000
Lot Dimensions: 45x70
Property Description: The one-story building is located downtown, steps away from the high-traffic intersection of Front & Division streets. Within recent years, it has been the site of a martial arts studio, computer repair shop, coffee shop and a furniture store. The property includes on-site parking for one or two vehicles. A municipal parking lot is located at the rear of the site.
Name of Property: Huntington Bank Building
Address: 205 Commercial Street
Realtor: Loren Souers, Signature Associates, (269) 385-2000 (269) 887-1714