Members By Tag
Business Centers
---
Business Center of Southwestern Michigan, The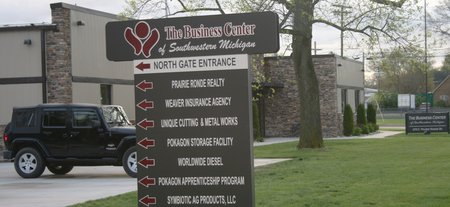 The Business Center of Southwestern Michigan provides economic viability, entrepreneurial opportunities and business sustainability to the southwestern Michigan region. The 617,000- square-foot facility, located on 34 acres, provides the backdrop for a variety of services for any size business. While promoting start-up and small businesses, it has also hosted larger manufacturing and distribution operations, and offers customized services to support individual and collective growth. With a diversified portfolio, the business center is currently partnering with 20 businesses to provide opportunities for future growth and expansion.
---
EQ Logistics
Based in Elkhart, Indiana, and locally at the Business Center of Southwest Michigan, Dowagiac. We hold our facilities to superior standards. With high ceilings, sprinkler systems, and sealed concrete floors, our climate-controlled, food-grade buildings are designed for maximum safety and efficiency. Our rail facilities feature warehouse docks and ground-level sidings, and our racking systems offer selective racks, drive-in racking, and cantilever racking. We carry warehouseman's legal liability insurance for your peace of mind, and we use industrial pest control to maintain the structural integrity and aesthetic appeal of your products. Our properties are fenced and monitored by TYCO Securities.
We're committed to investing in and maintaining the necessary equipment to do every job right the first time. We're able to lift loads of up to 200,000 pounds, and equipment we use includes: Forklifts of varying lengths with optional attachments, such as paper clamps, squeeze clamps, and carpet poles, narrow-aisle reach trucks and side loaders, overhead cranes. EQ Logistics offers transportation services with a fleet of company-owned trucks, including curtain side and flatbed trailers, vans, and straight trucks.
We also have volume shipping discounts established with major common carriers in our region, allowing us to take advantage of freight consolidation opportunities. Our reliable services include same-day delivery requests and deliveries of all types, such as:
Small parcel, LTL, Oversized. Air and Ocean
For more information, visit the website.