Members By Tag
Art Galleries
---
Art enah Suit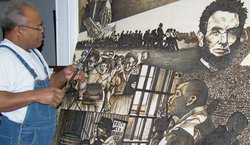 Local artist Larry Collins has combined his passion for art with vintage men's wear, within his working gallery in downtown Dowagiac. An artist for 40 years, Larry began drawing at the young age of nine and has never set his pen down.
Larry is best known for his wood burning, which has been showcased in galleries across Michigan and the United States. He has also adapted many of his designs into notecards and wearable art.
Art enah Suit also features a wonderful collection of vintage men's wear for sale, including suits, top hats, shoes and accessories. If you need something framed, Larry also provides matting and frame services.
The gallery is open Fridays and Saturdays from 10 to 7 p.m., by special appointment and during the week by chance.
---
Dogwood Fine Arts Festival
The Dogwood Fine Arts Festival brings the best in fine arts to Michigan. The week-long festival in mid-May is a Dowagiac tradition, which each year features nationally-recognized visual and performing artists, and authors. Venues across the city feature visual arts, music, literature, theatre, storytelling, and master classes with selected artists.
Festival membership is open to the public. As a Dogwood Festival member, you'll receive exclusive announcements of upcoming events, quarterly mailings, special offers from local merchants and information on ticket discounts.
Be sure to visit the festival website, listed below, to obtain this year's dates and to learn more about these exclusive offers and more.
For more information, visit the website.
---
Mud-Luscious
Mud-Luscious is a working pottery studio, offering workshops in pottery and chalk paint. The retail gallery offers vintage finds, finished pottery, art and upcycled furniture, home goods and boutique clothing.