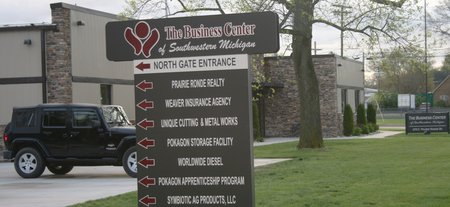 Address: 415 E. Prairie Ronde
Realtor: Prairie Ronde Realty Company
To Schedule a Showing Contact: Brian DeLong, 269-782-2141
Description of Property: The Business Center of Southwestern Michigan provides economic viability, entrepreneurial opportunities and business sustainability to the southwestern Michigan region. The 617,000- square-foot facility, located on 34 acres, provides the backdrop for a variety of services for any size business. While promoting start-up and small businesses, it has also hosted larger manufacturing and distribution operations, and offers customized services to support individual and collective growth. With a diversified portfolio, the business center is currently partnering with 20 businesses to provide opportunities for future growth and expansion.
Prairie Ronde Realty Company provides property management services for the business center. Services include administrative and management, training and support, and maintenance and environmental.
Building: Former Premier Rental Building, located adjacent to Save-a-Lot
Address: M-51 North
To Schedule a Showing: Vickie Phillipson, DDA and Chamber of Commerce program director, 269.782.8212 work, 269.591.9185 cell
Realtor: Nate Brussee, West Michigan Realtors, 269.626.3033
Square footage: 4,000 square feet. May consider dividing into two sites.
Rent: $3,900/month including base at $3,360 and cam costs at an additional $542/month.
Address: 56190 M-51
Realtor: Martha Hassle, Cressy & Everett, (269) 876-7764
Asking Price: $130,000
Description of Property: Located on a major thoroughfare, this 4880+/- square-foot commercial building was formally an auto parts store. It includes a large show room, counter, four storage areas, three overhead doors, a 22x40 pole building, bathroom and an office/storage area.
Available Utilities: Broadband, Cable, Electric, Natural Gas, Public Sewer, Public Water, Telephone
Building Features: Bath Common Area, Outdoor Storage, Security SystemPresent Utilities: Natural Gas
Taxes: $2,957
Building: Former Huntington Bank drive-though location
Address: 202 W. Prairie Ronde
Realtor: Tom Jerdon, Jerdon Real Estate, 269.782.4000
Asking Price: Was $129,000. Now $79,000
Lot Size: 2 lots totalling 129 feet on the road by 132 feet deep
Square Footage: 600 square feet (15x40-feet)
Description: Brick-sided building includes large 12 x 25-foot room with the balance in storage and a half bath. Naturel gas heat forced air, city utilities and ample on-site parking.
Building: Heartland Auto Sales Building